Institut de Ciència de Materials de Barcelona
The Universitat Autònoma de Barcelona is a referent in Europe so much for its teaching quality as for its commitment to innovation in research. The University was founded in 1968 and it has become a model to follow because of its will to contribute to social progress by training the professionals required by the most dynamic economic and social sectors in the country.
The UAB was one of the first universities of the Spanish State in being acknowledged as Campus of International Excellence. This Program promotes alliances of institutions that have a common strategic project aiming to create an academic, scientific, entreprenurial and innovative environment to get a high international visibility. The University proposal is the project "UABCEI: Aposta pel coneixement i la innovació" (UABCIE: Committment to knowledge and innovation). This is an strategic plan that seeks to make a dynamic RDI environment aiming to make the UAB one of the best European Universities.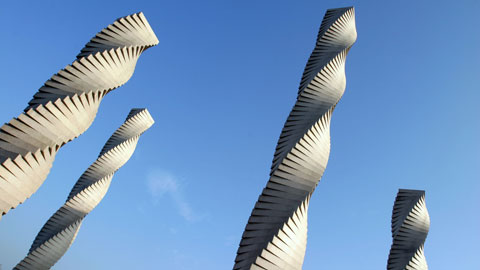 Recent Submissions
(Date of defense:

16-11-2018

)

Los condensadores ferroeléctricos están formados por dos electrodos metálicos separados por una capa ferroeléctrica, y tienen un gran potencial para dispositivos lógicos y memorias. El carácter ferroeléctrico de la barrera ...

(Date of defense:

11-10-2018

)

En esta tesis hemos estudiado como la manera de procesar los semiconductores orgánicos puede afectar a su morfología y estructure cristalina. Semiconductores orgánicos de tipo p y n han sido empleados como capas activas ...

(Date of defense:

08-11-2018

)

L'estudi de nanopartícules és una branca fascinant de la ciència. Les seves propietats fortament relacionades amb la seva mida ofereixen innombrables oportunitats per descobriments sorprenents. Tanmateix, el mateix ...

(Date of defense:

08-10-2018

)

El desenvolupament de nous dispositius, cada cop més complexes, que s'adeqüin a les necessitats del mercat s'està convertint en una tasca cada cop més complicada deguda a la gairebé completa explotació de les propietats ...

(Date of defense:

17-07-2018

)

Materiales orgánicos basados en moléculas pequeñas con propiedades optoelectrónicas son particularmente atractivos en los campos de celdas solares orgánicas y en el campo de la electrónica molecular. Porfirinas y curcuminoides ...