Institut de Física d'Altes Energies
The Universitat Autònoma de Barcelona is a referent in Europe so much for its teaching quality as for its commitment to innovation in research. The University was founded in 1968 and it has become a model to follow because of its will to contribute to social progress by training the professionals required by the most dynamic economic and social sectors in the country.
The UAB was one of the first universities of the Spanish State in being acknowledged as Campus of International Excellence. This Program promotes alliances of institutions that have a common strategic project aiming to create an academic, scientific, entreprenurial and innovative environment to get a high international visibility. The University proposal is the project "UABCEI: Aposta pel coneixement i la innovació" (UABCIE: Committment to knowledge and innovation). This is an strategic plan that seeks to make a dynamic RDI environment aiming to make the UAB one of the best European Universities.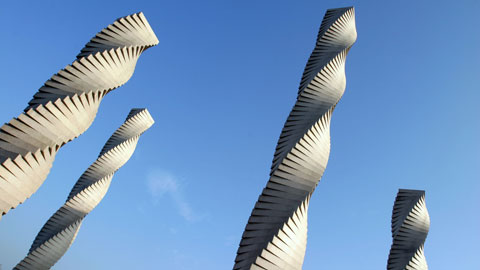 Recent Submissions
(Date of defense:

29-11-2019

)

Resums pendents

(Date of defense:

16-01-2020

)

Al llarg dels últims anys, s'han observat nombroses senyals que suggereixen l'existència de Física més enllà del Model Estàndard en desintegracions semi-leptòniques de mesons B, mediades per transicions del tipus b --> ...

(Date of defense:

23-11-2018

)

El Large Hadron Collider (LHC) en la Organización Europea para la Investigación Nuclear (CERN), Ginebra, interrumpirá su operación en 2023 para ser mejorado a High Luminosity LHC (HL-LHC) y proporcionar colisiones entre ...

(Date of defense:

04-07-2018

)

El descobriment del bosó de Higgs és la culminació d'una recerca que ha durat 40 anys, i completa un marc teòric sota el qual gairebé totes del dades obtingudes de col·lisionadors de partícules poden ser explicades ...

(Date of defense:

05-07-2013

)

Esta tesis presenta los resultados de la búsqueda de nueva fisica en sucesos mono-jet en colisiones protón-protón recogidos por el experimento ATLAS en el LHC con una energía en el centro de masas de 7 TeV (en 2010 y 2011) ...