Institut de Neurociències
The Universitat Autònoma de Barcelona is a referent in Europe so much for its teaching quality as for its commitment to innovation in research. The University was founded in 1968 and it has become a model to follow because of its will to contribute to social progress by training the professionals required by the most dynamic economic and social sectors in the country.
The UAB was one of the first universities of the Spanish State in being acknowledged as Campus of International Excellence. This Program promotes alliances of institutions that have a common strategic project aiming to create an academic, scientific, entreprenurial and innovative environment to get a high international visibility. The University proposal is the project "UABCEI: Aposta pel coneixement i la innovació" (UABCIE: Committment to knowledge and innovation). This is an strategic plan that seeks to make a dynamic RDI environment aiming to make the UAB one of the best European Universities.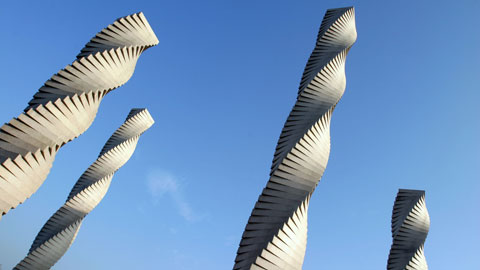 Recent Submissions
(Date of defense:

26-02-2019

)

La degeneración Lobular Frontotemporal (DLFT) es una constructo neuropatológico heterogéneo que incluye diferentes entidades neuropatológicas caracterizadas por una neurodegeneración prominente de los lóbulos frontales y ...

(Date of defense:

18-07-2018

)

Physical exercise, an economical and easily accessible lifestyle intervention can improve cognitive function in healthy adults and is a potential long-term treatment option for those who have sustained traumatic brain ...

(Date of defense:

09-11-2018

)

En las últimas décadas, la categoría del Común ha resurgido para dibujar un camino de emancipación del capitalismo sin el Estado, retomando las tesis del marxismo autonomista. En este camino, los Comunes son las prácticas ...

(Date of defense:

19-10-2018

)

Los receptores acoplados a proteínas G (GPCRs) juegan un papel muy importante en una gran variedad de procesos biológicos. Estos receptores están localizados en la membrana y median las rutas de señalización celulares. Es ...

(Date of defense:

28-09-2018

)

Les encefalopaties epilèptiques són una condició on les anomalies epileptiformes es postulen com a contribuïdores d'una alteració progressiva de la funció cerebral. Aquest treball se centra específicament en les Encefalopaties ...