Departament de Medicina
The Universitat Autònoma de Barcelona is a referent in Europe so much for its teaching quality as for its commitment to innovation in research. The University was founded in 1968 and it has become a model to follow because of its will to contribute to social progress by training the professionals required by the most dynamic economic and social sectors in the country.
The UAB was one of the first universities of the Spanish State in being acknowledged as Campus of International Excellence. This Program promotes alliances of institutions that have a common strategic project aiming to create an academic, scientific, entreprenurial and innovative environment to get a high international visibility. The University proposal is the project "UABCEI: Aposta pel coneixement i la innovació" (UABCIE: Committment to knowledge and innovation). This is an strategic plan that seeks to make a dynamic RDI environment aiming to make the UAB one of the best European Universities.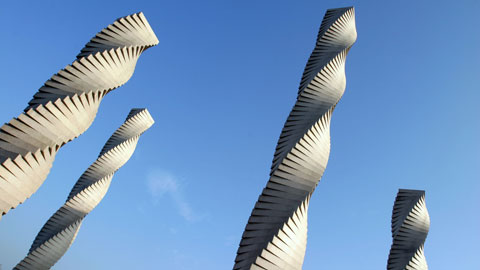 Recent Submissions
(Date of defense:

09-11-2018

)

Si bé la relació entre la fibril.lació auricular (FA) i els ictus isquèmics està ben establerta i demostrada, existeix escassa informació de l'associació entre arítmies supraventriculars diferents de la fibril.lació auricular ...

(Date of defense:

28-02-2019

)

Antecedentes: El glioblastoma (GB) es el tumor primario más frecuente y agresivo del sistema nervioso central en adultos, asociándose a un promedio de supervivencia muy bajo de 15 meses. Varios estudios preclínicos y ...

(Date of defense:

18-10-2018

)

Propósito del estudio: Evaluar la eficacia y seguridad del timolol maleato 0.5% solución en el tratamiento del hemangioma infantil (HI) en lactantes menores de 10-60 días. La hipótesis de este trabajo es que al inciar ...

(Date of defense:

24-10-2018

)

Antecedentes El vitiligo es una enfermedad autoinmune en la que los melanocitos son destruidos por células T-antígeno-específicas. La inmunidad adaptativa juega un papel importante en la progresión de la enfermedad. Además, ...

(Date of defense:

28-11-2018

)

El maneig i el seguiment dels factors de risc cardiovascular clàssics com la hipertensió arterial, la hipercolesterolèmia, la hiperglucèmia i el tabaquisme no han aconseguit modificar la causa principal de morbimortalitat ...