Departament de Medicina
The Universitat Autònoma de Barcelona is a referent in Europe so much for its teaching quality as for its commitment to innovation in research. The University was founded in 1968 and it has become a model to follow because of its will to contribute to social progress by training the professionals required by the most dynamic economic and social sectors in the country.
The UAB was one of the first universities of the Spanish State in being acknowledged as Campus of International Excellence. This Program promotes alliances of institutions that have a common strategic project aiming to create an academic, scientific, entreprenurial and innovative environment to get a high international visibility. The University proposal is the project "UABCEI: Aposta pel coneixement i la innovació" (UABCIE: Committment to knowledge and innovation). This is an strategic plan that seeks to make a dynamic RDI environment aiming to make the UAB one of the best European Universities.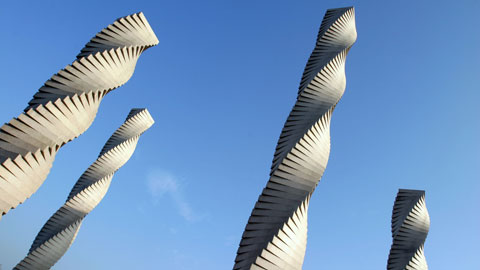 Recent Submissions
(Date of defense:

19-02-2020

)

El CADASIL és una arteriopatia sistèmica causada per mutacions en NOTCH3, que afecten el nombre de cisteïnes del domini extracel·lular del receptor, alterant els ponts disulfur i propiciant un mal plegament d'aquest, i la ...

(Date of defense:

03-02-2020

)

Introducció: El tractament endovascular en l'ictus isquèmic agut ha demostrat la seva superioritat pel que fa a el tractament mèdic pel que fa a el pronòstic funcional als 3 mesos. El temps des de l'inici dels símptomes ...

(Date of defense:

03-02-2020

)

En l'acromegàlia els nivells de GH i IGF1 són la nostra principal eina per monitoritzar el curs de la malaltia i l'èxit terapèutic. No obstant això, aquests no sempre reflecteixen el curs clínic de la malaltia o les ...

(Date of defense:

06-02-2020

)

L'objectiu d'aquesta tesi doctoral és avaluar l'epidemiologia, la clínica, les possibles portes d'entrada, el tractament i el pronòstic de l'endocarditis enterocòcica. Per aconseguir aquest objectiu s'han realitzat tres ...

(Date of defense:

10-01-2020

)

L'hemorràgia remota (RPH) és una complicació infreqüent i poc coneguda secundària al tractament amb fibrinòlisi endovenosa en pacients amb ictus isquèmic. Les principals hipòtesis relacionen la RPH amb l'angiopatia amiloide ...