Departament de Medicina
The Universitat Autònoma de Barcelona is a referent in Europe so much for its teaching quality as for its commitment to innovation in research. The University was founded in 1968 and it has become a model to follow because of its will to contribute to social progress by training the professionals required by the most dynamic economic and social sectors in the country.
The UAB was one of the first universities of the Spanish State in being acknowledged as Campus of International Excellence. This Program promotes alliances of institutions that have a common strategic project aiming to create an academic, scientific, entreprenurial and innovative environment to get a high international visibility. The University proposal is the project "UABCEI: Aposta pel coneixement i la innovació" (UABCIE: Committment to knowledge and innovation). This is an strategic plan that seeks to make a dynamic RDI environment aiming to make the UAB one of the best European Universities.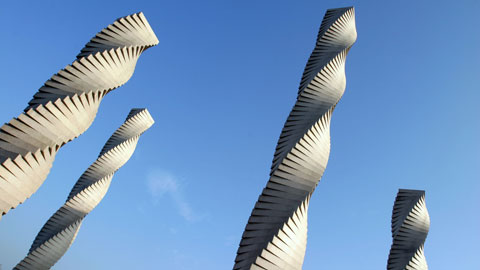 Recent Submissions
(Date of defense:

09-07-2019

)

El ictus isquémico es una emergencia médica tiempo sensible que requiere una rápida reperfusión cerebral. Recientemente, el tratamiento endovascular se ha convertido en un nuevo estándar en la práctica habitual del manejo ...

(Date of defense:

28-06-2019

)

La presente tesis doctoral aborda el problema de la Baja Masa Ósea para la edad cronológica (BMOec) y la Osteoporosis infantil (OPi), situaciones que pueden ser silentes y que requieren de una investigación activa para ...

(Date of defense:

17-06-2019

)

El mieloma múltiple (MM) encara és una malaltia incurable. Tot i això, el seu maneig ha canviat considerablement en les dues darreres dècades per l'aparició de quatre noves famílies de fàrmacs: els inhibidors del proteasoma ...

(Date of defense:

12-03-2019

)

La malaltia relacionada amb la IgG4 (IgG4-RD) és una patologia fibroinflamatòria autoimmune sistèmica, caracteritzada pel desenvolupament de masses fibròtiques que poden portar a l'alteració de l'arquitectura dels teixits ...

(Date of defense:

29-04-2019

)

Los artículos realizados como cuerpo de esta tesis doctoral, han sido realizados por la doctoranda Neus Muñoz Gost en relación a la infección por Helicobacter pylori. Con el título "Helicobacter pylori y medicina basada ...