Departament de Psicobiologia i de Metodologia de les Ciències de la Salut
The Universitat Autònoma de Barcelona is a referent in Europe so much for its teaching quality as for its commitment to innovation in research. The University was founded in 1968 and it has become a model to follow because of its will to contribute to social progress by training the professionals required by the most dynamic economic and social sectors in the country.
The UAB was one of the first universities of the Spanish State in being acknowledged as Campus of International Excellence. This Program promotes alliances of institutions that have a common strategic project aiming to create an academic, scientific, entreprenurial and innovative environment to get a high international visibility. The University proposal is the project "UABCEI: Aposta pel coneixement i la innovació" (UABCIE: Committment to knowledge and innovation). This is an strategic plan that seeks to make a dynamic RDI environment aiming to make the UAB one of the best European Universities.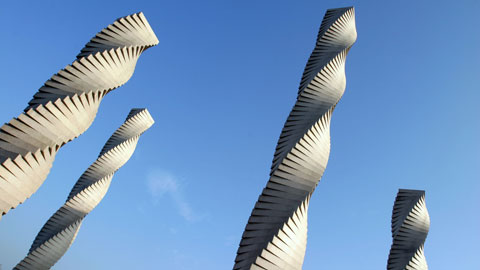 Recent Submissions
(Date of defense:

04-10-2019

)

L'envelliment progressiu de la població pot implicar una major incidència de malalties neurodegeneratives, el que suposa un problema social important que requereix d'investigació. Les regions cerebrals especialment sensibles ...

(Date of defense:

18-12-2018

)

Desde hace años y atendiendo al gran incremento del número de publicaciones, revisiones sistemáticas y metaanálisis han demostrado ser metodologías muy útiles para sintetizar la evidencia disponible en un área de conocimiento ...

(Date of defense:

12-11-2018

)

Los esteroides neuroactivos (NAS), como la allopregnanolona, desempeñan un papel crítico en la maduración del sistema nervioso e influyen en una gran variedad de comportamientos. En estudios previos se ha observado que, ...

(Date of defense:

08-11-2018

)

El dany cerebral traumàtic (traumatic brain injury, TBI) és un dany cerebral adquirit que constitueix una important causa d'incapacitat, a causa de l'elevada freqüència de seqüeles cròniques en múltiples àmbits. Donada ...

(Date of defense:

31-10-2018

)

L'estimulació elèctrica cerebral pot facilitar processos cognitius com l'aprenentatge i la memòria. En particular, l'estimulació del sistema nerviós del reforç mitjançant autoestimulació elèctrica intracranial (AEIC) s'ha ...