Departament de Ciències de l'Antiguitat i de l'Edat Mitjana
The Universitat Autònoma de Barcelona is a referent in Europe so much for its teaching quality as for its commitment to innovation in research. The University was founded in 1968 and it has become a model to follow because of its will to contribute to social progress by training the professionals required by the most dynamic economic and social sectors in the country.
The UAB was one of the first universities of the Spanish State in being acknowledged as Campus of International Excellence. This Program promotes alliances of institutions that have a common strategic project aiming to create an academic, scientific, entreprenurial and innovative environment to get a high international visibility. The University proposal is the project "UABCEI: Aposta pel coneixement i la innovació" (UABCIE: Committment to knowledge and innovation). This is an strategic plan that seeks to make a dynamic RDI environment aiming to make the UAB one of the best European Universities.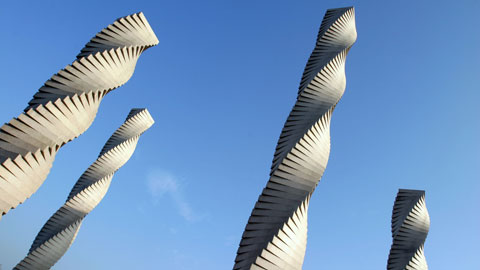 Recent Submissions
(Date of defense:

11-03-2019

)

La ricerca consente una conoscenza più approfondita dei complessi forensi: delle loro fasi edilizie, della loro evoluzione, delle loro funzioni e delle architetture più significative che si trovano al loro interno. Si ...

(Date of defense:

29-11-2018

)

A lo largo de la Historia, la palabra especias ha ido cambiando de significado. Utilizadas desde el antiguo Egipto en alta gastronomía (azafrán, mostaza, sésamo, alcaravea) y para embalsamar, y posteriormente en ceremonias ...

(Date of defense:

22-10-2018

)

Aquesta tesi aborda un nou camp d'estudis: els Historical Game Studies, o estudi de videojocs de temàtica històrica, la naturalesa del qual és l'anàlisi dels videojocs en el seu sentit més ampli, i de les relacions que ...

(Date of defense:

05-09-2018

)

En la presente tesis se analizan una serie de episodios que permiten caracterizar el elemento de la irreligiosidad de Alejandro. La imagen transmitida tradicionalmente por la historiografía ha sido la de un rey piadoso y ...

(Date of defense:

14-05-2018

)

En el año 1520 el obispo de Barcelona, inquisidor general del Reino de Aragón, confesor de la reina Isabel I de Castilla y predicador real de Fernando II de Aragón, Martín García, lleva a cabo una compilación de sus 156 ...