Institut Universitari d'Estudis Europeus
The Universitat Autònoma de Barcelona is a referent in Europe so much for its teaching quality as for its commitment to innovation in research. The University was founded in 1968 and it has become a model to follow because of its will to contribute to social progress by training the professionals required by the most dynamic economic and social sectors in the country.
The UAB was one of the first universities of the Spanish State in being acknowledged as Campus of International Excellence. This Program promotes alliances of institutions that have a common strategic project aiming to create an academic, scientific, entreprenurial and innovative environment to get a high international visibility. The University proposal is the project "UABCEI: Aposta pel coneixement i la innovació" (UABCIE: Committment to knowledge and innovation). This is an strategic plan that seeks to make a dynamic RDI environment aiming to make the UAB one of the best European Universities.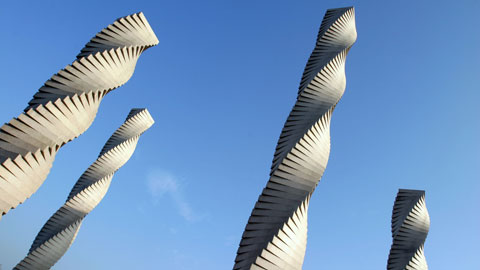 Recent Submissions
(Date of defense:

26-11-2014

)

Hay un amplio reconocimiento sobre el hecho de que los cambios ambientales globales actuales no pueden ser entendidos, analizados y respondidos sin reconocer el rol de la globalización neoliberal en su misma perpetuación ...

(Date of defense:

26-03-2012

)

Sesenta años de ayuda al desarrollo no han funcionado para aliviar la pobreza en los países menos desarrollados. La ambiciosa retórica oficial de los donantes sí que ha sido eficaz en la c ...

(Date of defense:

06-09-2012

)

Durante más de 120 años el flujo de migrantes de España a México ha sido continuo, lo cual ha representado una estrecha vinculación entre las dos naciones que ha conformado círculos virtuosos de intercambio de saberes y ...

El surgimiento y puesta en circulación del euro es uno de los acontecimientos más importantes de las relaciones internacionales del nuevo milenio. Dada la importancia que ocupa el bloque europeo en el ámbito internacional, ...

La present tesi doctoral analitza l'evolució i els factors determinants de la competitivitat de les manufactures catalanes a la UE-25 en el període 1999-2004. La contribució principal del treball és l'aplicació de l'indicador ...