Programa de Doctorat en Medicina i Sanitat Animals
The Universitat Autònoma de Barcelona is a referent in Europe so much for its teaching quality as for its commitment to innovation in research. The University was founded in 1968 and it has become a model to follow because of its will to contribute to social progress by training the professionals required by the most dynamic economic and social sectors in the country.
The UAB was one of the first universities of the Spanish State in being acknowledged as Campus of International Excellence. This Program promotes alliances of institutions that have a common strategic project aiming to create an academic, scientific, entreprenurial and innovative environment to get a high international visibility. The University proposal is the project "UABCEI: Aposta pel coneixement i la innovació" (UABCIE: Committment to knowledge and innovation). This is an strategic plan that seeks to make a dynamic RDI environment aiming to make the UAB one of the best European Universities.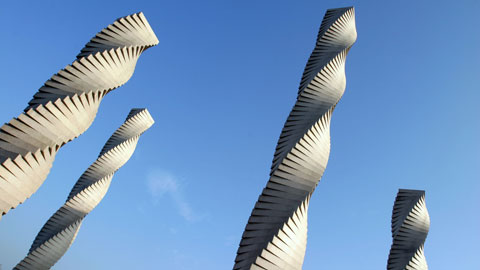 Recent Submissions
(Date of defense:

11-12-2020

)

El coronavirus de la síndrome respiratòria de l'Orient Mitjà (en anglès, MERS-CoV) causa una elevada letalitat a les persones. Es pensa que aquest patogen zoonòtic emergent ha evolucionat a partir d'un coronavirus de rat ...

(Date of defense:

13-11-2020

)

El virus de la Pesta Porcina Africana (VPPA) és l'amenaça principal per a la indústria porcina. L'absència de vacunes enfront del virus complica el control i erradicació de la malaltia que provoca: la Pesta Porcina Africana ...

(Date of defense:

18-06-2020

)

La salmonel·losi és una zoonosi causada per soques no adaptades de bacteris del gènere Salmonella. La Salmonella es troba habitualment a l'intestí d'ocells i mamífers sans i pot entrar a la cadena alimentària mitjançant ...

(Date of defense:

01-10-2020

)

Aquesta Tesi Doctoral es va centrar en l'estudi de les alteracions lligades a canvis en el contingut intraluminal i en l'expressió i localització de citoquines i quimoquines a la pròstata de rates sanes i afectades per ...

(Date of defense:

14-10-2020

)

En el primer estudi de la present tesi, es van estudiar brots de malaltia respiratòria compatible amb virus de la influença de tipus A (IAV) així com granges que no mostraven simptomatologia clínica. Per a l'estudi dels ...