Departament de Matemàtiques
The Universitat Autònoma de Barcelona is a referent in Europe so much for its teaching quality as for its commitment to innovation in research. The University was founded in 1968 and it has become a model to follow because of its will to contribute to social progress by training the professionals required by the most dynamic economic and social sectors in the country.
The UAB was one of the first universities of the Spanish State in being acknowledged as Campus of International Excellence. This Program promotes alliances of institutions that have a common strategic project aiming to create an academic, scientific, entreprenurial and innovative environment to get a high international visibility. The University proposal is the project "UABCEI: Aposta pel coneixement i la innovació" (UABCIE: Committment to knowledge and innovation). This is an strategic plan that seeks to make a dynamic RDI environment aiming to make the UAB one of the best European Universities.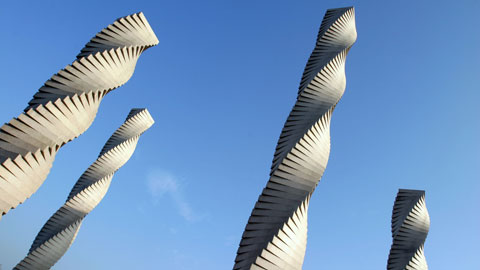 Recent Submissions
(Date of defense:

16-11-2018

)

Donat que les dades de recompte es troben en molt fenòmens reals, la necessitat de mètodes i tècniques de qualitat per modelitzar i analitzar aquest tipus de dades és completament indiscutible. En aquest sentit, durant els ...

(Date of defense:

17-07-2018

)

En este trabajo presentamos nuevos resultados en la teoría del promedio para encontrar soluciones periódicas. Usando reducción de Lyapunov-Schmidt y el grado de Brouwer nosotros elaboramos un teorema del promedio capaz ...

(Date of defense:

11-10-2018

)

La tesi tracta de l'estudi d'òrbites periòdiques aïllades, que anomenarem cicles límits, en alguns sistemes diferencials i diferencials a trossos en el pla. Aquest és un dels temes més importants de la Teoria Qualitativa ...

(Date of defense:

27-09-2018

)

L'objectiu principal d'aquesta tesis és l'estudi de la conjectura de Perron. Aquesta conjectura afirma que certa funcio sobre el grup de Torelli mod p amb valors en Z/p és un invariant d'esferes d'homologia modul p. Per ...

(Date of defense:

20-06-2018

)

Hohner Automáticos S.L. és una empresa principalment dedicada a la fabricació d'encoders.Aquesta tesi doctoral s'ha centrat en la millora i innovació respecte a un tipus de producte anomenat encoder rotatori incremental ...