Departament de Matemàtiques
The Universitat Autònoma de Barcelona is a referent in Europe so much for its teaching quality as for its commitment to innovation in research. The University was founded in 1968 and it has become a model to follow because of its will to contribute to social progress by training the professionals required by the most dynamic economic and social sectors in the country.
The UAB was one of the first universities of the Spanish State in being acknowledged as Campus of International Excellence. This Program promotes alliances of institutions that have a common strategic project aiming to create an academic, scientific, entreprenurial and innovative environment to get a high international visibility. The University proposal is the project "UABCEI: Aposta pel coneixement i la innovació" (UABCIE: Committment to knowledge and innovation). This is an strategic plan that seeks to make a dynamic RDI environment aiming to make the UAB one of the best European Universities.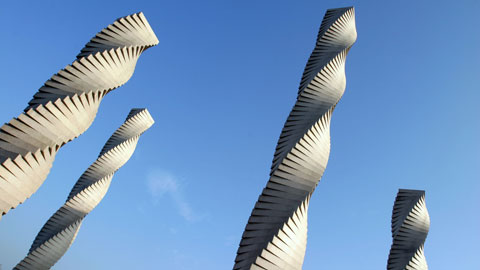 Recent Submissions
(Date of defense:

20-02-2019

)

Esta tesis consta de tres ensayos. En el primer ensayo, probamos empíricamente el desempeño de los precios de varios modelos financieros avanzados para opciones exóticas. Calibramos seis modelos avanzados para precios de ...

(Date of defense:

25-02-2019

)

L'aparició de nous virus causants de malalties està estretament lligada a l'especialització de subpoblacions virals cap a nous tipus d'amfitrions. La modelització matemàtica proporciona un marc quantitatiu que pot ajudar ...

(Date of defense:

02-11-2018

)

En aquesta tesi doctoral, el nostre objectiu principal és entendre la importància de la regulació epigenètica en la determinació del destí cel lular i de les seves possibles tran- sicions cap a altres estats. ...

(Date of defense:

29-01-2019

)

This thesis is concerned with topological attractors of some quasi-periodically forced one-dimensional maps. The main aim of our study is to under- stand the states of the attractors by analyzing the mechanisms which ...

(Date of defense:

05-12-2018

)

La motivació principal de la tesi ha estat l'estudi del problema d'Atiyah, que es pregunta sobre els possibles valors que poden assolir els nombres de Betti l2 de grups discrets numerables G. Aquesta pregunta va motivar ...