Departament de Química
The Universitat Autònoma de Barcelona is a referent in Europe so much for its teaching quality as for its commitment to innovation in research. The University was founded in 1968 and it has become a model to follow because of its will to contribute to social progress by training the professionals required by the most dynamic economic and social sectors in the country.
The UAB was one of the first universities of the Spanish State in being acknowledged as Campus of International Excellence. This Program promotes alliances of institutions that have a common strategic project aiming to create an academic, scientific, entreprenurial and innovative environment to get a high international visibility. The University proposal is the project "UABCEI: Aposta pel coneixement i la innovació" (UABCIE: Committment to knowledge and innovation). This is an strategic plan that seeks to make a dynamic RDI environment aiming to make the UAB one of the best European Universities.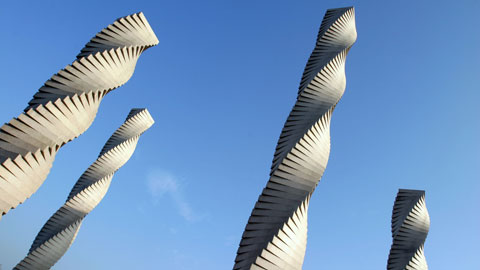 Recent Submissions
(Date of defense:

25-01-2019

)

Durante las últimas décadas la química analítica ha experimentado una extraordinaria evolución con tal de satisfacer la actual demanda de información en tiempo real e in situ, partiendo de la instrumentación clásica (de ...

(Date of defense:

14-12-2018

)

El seleni és un micronutrient essencial pels humans. Té diversos rols en la salut i per tant, el seu consum a nivells òptims és altament beneficial. Tot i així, 500-1000 milions de persones al món pateixen dèficit de seleni, ...

(Date of defense:

25-01-2019

)

Self-assembled monolayers (SAMs) on gold surfaces have been designed, processed, characterized and used for specific biological studies. The studies performed include the control of lipid bilayer diffusion, cell adhesion ...

(Date of defense:

25-01-2019

)

Las nanopartículas de óxido de cerio (CeO2 NPs) son uno de los nanomateriales más prometedores para futuras aplicaciones médicas debido a sus interesantes propiedades en la nanoescala. CeO2 NPs tienen especial atención ...

(Date of defense:

12-12-2018

)

Cómo inició la vida es uno de los problemas más intrigantes y sin respuesta de la ciencia. La cascada de eventos que permite la formación de sistemas complejos de macromoléculas poliméricas como proteínas, DNA, RNA, azucares, ...