Departament de Química
The Universitat Autònoma de Barcelona is a referent in Europe so much for its teaching quality as for its commitment to innovation in research. The University was founded in 1968 and it has become a model to follow because of its will to contribute to social progress by training the professionals required by the most dynamic economic and social sectors in the country.
The UAB was one of the first universities of the Spanish State in being acknowledged as Campus of International Excellence. This Program promotes alliances of institutions that have a common strategic project aiming to create an academic, scientific, entreprenurial and innovative environment to get a high international visibility. The University proposal is the project "UABCEI: Aposta pel coneixement i la innovació" (UABCIE: Committment to knowledge and innovation). This is an strategic plan that seeks to make a dynamic RDI environment aiming to make the UAB one of the best European Universities.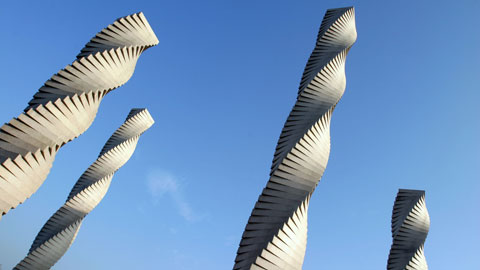 Recent Submissions
(Date of defense:

31-10-2018

)

Primerament, la síntesis de quinze tipus de nanocristalls inorgànics i la tendència general dels nanocristalls de fluorurs metàl·lics ha estat satisfactòriament desentranyada. Utilitzant el mètode de la coprecipitació, es ...

(Date of defense:

26-10-2018

)

Els biosensors de fluxe lateral són dispositius basats en paper d'alta rellevància en diagnòstics "point-of-care" i monitoratge ambiental. Aquests dispositius són de baix cost, ràpids, robustos i simples de fer servir. En ...

(Date of defense:

26-10-2018

)

Aquesta Tesi està dedicada a l'estudi de la interacció de la llum amb Polímers de Coordinació (CPs) i Xarxes Metalorgàniques (MOFs). S'ha seguit dos camins per aconseguir aquest objectiu; en primer lloc estudiant l'efecte ...

(Date of defense:

27-09-2018

)

Esta tesis presenta el desarrollo de baterías biodegradables siguiendo una aproximación alineada con los principios de sostenibilidad de la economía circular. Estás fuentes de energía están enfocadas especialmente en reducir ...

(Date of defense:

28-09-2018

)

La present tesi descriu la preparació d'una nova família de fosfines carboxíliques-trifluorometilades. Aquests lligands han sigut sintetitzats mitjançant la reacció d'hidròlisi del grup trifluorometil en triarilfosfines ...