Departament de Geologia
The Universitat Autònoma de Barcelona is a referent in Europe so much for its teaching quality as for its commitment to innovation in research. The University was founded in 1968 and it has become a model to follow because of its will to contribute to social progress by training the professionals required by the most dynamic economic and social sectors in the country.
The UAB was one of the first universities of the Spanish State in being acknowledged as Campus of International Excellence. This Program promotes alliances of institutions that have a common strategic project aiming to create an academic, scientific, entreprenurial and innovative environment to get a high international visibility. The University proposal is the project "UABCEI: Aposta pel coneixement i la innovació" (UABCIE: Committment to knowledge and innovation). This is an strategic plan that seeks to make a dynamic RDI environment aiming to make the UAB one of the best European Universities.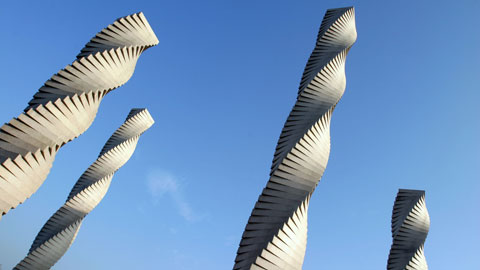 Recent Submissions
(Date of defense:

04-10-2019

)

La incorporación de los geoparques al Programa Internacional de Geociencias y Geoparques de la Organización de las Naciones Unidas para la Educación, la Ciencia y la Cultura (UNESCO), en 2015, coincide con la adopción por ...

(Date of defense:

29-06-2018

)

En la presente tesis se discuten los resultados obtenidos del análisis de la textura, arquitectura y sistemática de los orbitolinoideos (Superfamilia Orbitolinoidea), un grupo de macroforaminíferos imperforados complejos ...

(Date of defense:

02-11-2018

)

La cuenca de Jaca representa un ejemplo excepcional de relleno sedimentario de una cuenca piggyback. Su registro estratigráfico muestra la evolución desde la sedimentación marina profunda durante el Eoceno inferior, hasta ...

(Date of defense:

30-10-2018

)

La familia Hyaenidae (Mammalia, Carnivora) incluye actualmente cuatro especies, que están restringidas a África y Asia: las hienas rompedoras de huesos (Crocuta crocuta, Hyaena hyaena, Parahyaena brunnea) y el mirmecófago ...

(Date of defense:

24-04-2018

)

La caracterització de l'evolució dels sistemes sedimentaris en conques d'avantpaís contribueix a desxifrar la història tectònica i erosiva de les seves àrees font. Els dipòsits clàstics de l'Eocè fins al Miocè de la conca ...