Departament d'Enginyeria Química
The Universitat Autònoma de Barcelona is a referent in Europe so much for its teaching quality as for its commitment to innovation in research. The University was founded in 1968 and it has become a model to follow because of its will to contribute to social progress by training the professionals required by the most dynamic economic and social sectors in the country.
The UAB was one of the first universities of the Spanish State in being acknowledged as Campus of International Excellence. This Program promotes alliances of institutions that have a common strategic project aiming to create an academic, scientific, entreprenurial and innovative environment to get a high international visibility. The University proposal is the project "UABCEI: Aposta pel coneixement i la innovació" (UABCIE: Committment to knowledge and innovation). This is an strategic plan that seeks to make a dynamic RDI environment aiming to make the UAB one of the best European Universities.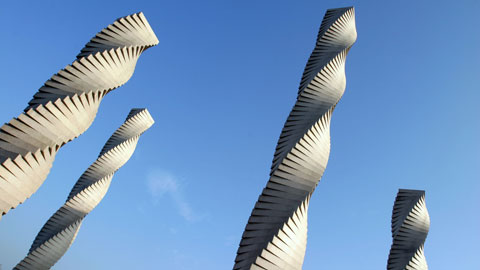 Recent Submissions
(Date of defense:

28-09-2017

)

Degut al risc que suposa la presència de les toxines marines emergents tetrodotoxines (TTXs) i ciguatoxines (CTXs) en peix i marisc per a la seguretat alimentària i als consumidors, és realment necessari desenvolupar mètodes ...

(Date of defense:

14-06-2019

)

Les activitats industrials com són les industries papereres, farmacèutiques, minera, de processat d'aliments, etc. generen aigües residuals amb un alt contingut de sulfat. El sulfat com a tal no resulta altament perjudicial ...

(Date of defense:

26-10-2018

)

Les cèl·lules de mamífer esdevenen un dels principals sistemes per a la producció d'una àmplia gamma de proteïnes. Al voltant del 60-70% de tots els productes biofarmacèutics es produeixen en cèl·lules de mamífer gràcies ...

(Date of defense:

17-05-2018

)

La tesi que es presenta a continuació està encarada, en termes generals, en la utilització d'una lipasa recombinant de Rhizopus oryzae (rROL) expressada en un llevat metilotròfic (Picchia pastoris) i immobilitzada en un ...

(Date of defense:

21-10-2016

)

Actualmente las estaciones depuradoras de aguas residuales (EDAR) urbanas están ampliamente implantadas en los países industrializados, puesto que es necesario realizar un tratamiento de las aguas residuales antes de ...