Departament de Sanitat i d'Anatomia Animals
The Universitat Autònoma de Barcelona is a referent in Europe so much for its teaching quality as for its commitment to innovation in research. The University was founded in 1968 and it has become a model to follow because of its will to contribute to social progress by training the professionals required by the most dynamic economic and social sectors in the country.
The UAB was one of the first universities of the Spanish State in being acknowledged as Campus of International Excellence. This Program promotes alliances of institutions that have a common strategic project aiming to create an academic, scientific, entreprenurial and innovative environment to get a high international visibility. The University proposal is the project "UABCEI: Aposta pel coneixement i la innovació" (UABCIE: Committment to knowledge and innovation). This is an strategic plan that seeks to make a dynamic RDI environment aiming to make the UAB one of the best European Universities.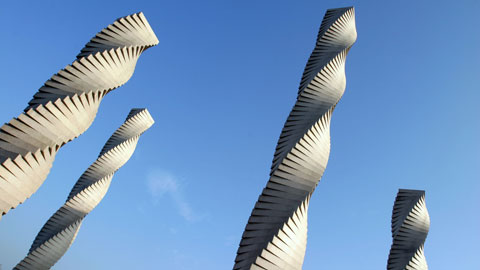 Recent Submissions
(Date of defense:

14-11-2018

)

El petit corpus de tractats de falconeria escrits en català a la Corona d'Aragó durant la baixa edat mitjana ens permet estudiar el vessant teòric d'aquest art en aquell context. Després de l'edició i l'estudi de tots dels ...

(Date of defense:

23-10-2018

)

El objetivo de esta tesis ha sido aumentar el conocimiento sobre la epidemiología y el control de la Tuberculosis Bovina (TBb) e investigar factores sociológicos que podrían obstaculizar su erradicación en España. En el ...

(Date of defense:

26-09-2018

)

Taenia solium i Taenia saginata són dos paràsits zoonòtics que causen teniasi en persones (hoste definitiu) i cisticercosi en porcí i boví (hoste intermediari), respectivament. A Europa, T. saginata ha estat present durant ...

(Date of defense:

14-09-2018

)

L'anàlisi del cortisol circulant, el producte final de l'activació de l'eix hipotalàmic-pituïtariinterrenal (HPI), ha sigut la metodologia més usada en els estudis d'estrès en peixos. Per evitar els inconvenients inherents ...

(Date of defense:

23-04-2018

)

L'exposició a la contaminació ambiental és una de les principals amenaces per a la salut dels ecosistemes i les poblacions silvestres. L'estrès produït per la contaminació pot causar importants alteracions a la fauna, ...