Departament d'Enginyeria Química, Biològica i Ambiental
The Universitat Autònoma de Barcelona is a referent in Europe so much for its teaching quality as for its commitment to innovation in research. The University was founded in 1968 and it has become a model to follow because of its will to contribute to social progress by training the professionals required by the most dynamic economic and social sectors in the country.
The UAB was one of the first universities of the Spanish State in being acknowledged as Campus of International Excellence. This Program promotes alliances of institutions that have a common strategic project aiming to create an academic, scientific, entreprenurial and innovative environment to get a high international visibility. The University proposal is the project "UABCEI: Aposta pel coneixement i la innovació" (UABCIE: Committment to knowledge and innovation). This is an strategic plan that seeks to make a dynamic RDI environment aiming to make the UAB one of the best European Universities.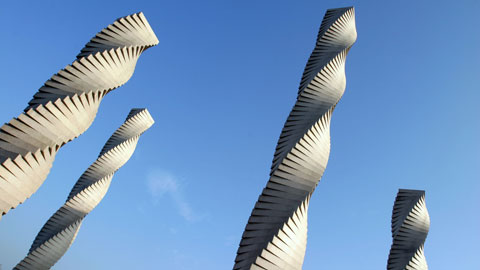 Recent Submissions
(Date of defense:

24-10-2018

)

El enfoque de este trabajo de investigación es analizar el proceso de producción de polihidroxialcanoatos (PHA) en paralelo al tratamiento de aguas residuales. Los PHA se consideran sustitutos potenciales de los plásticos ...

(Date of defense:

11-07-2018

)

La relación entre el hospedador y los microorganismos que colonizan el tracto gastrointestinal (GIT) es importante y fundamental para mantener un buen estado de salud, ya que se ha observado que la baja diversidad microbiana ...

(Date of defense:

13-07-2018

)

Las investigaciones previas, realizadas dentro del grupo de compostaje, dieron como resultado varios procesos medioambientalmente favorables para la obtención de celulasas y proteasas, mediante fermentación en estado ...

(Date of defense:

25-06-2018

)

En el darrer segle, la contaminació de l'aigua s'ha convertit en un problema important que afecta a una gran part de la població i al medi ambient. La contaminació es deu principalment a les descàrregues d'aigües residuals ...

(Date of defense:

27-06-2018

)

Aquesta tesi es centra en l'avaluació de la fermentació en estat sòlid (FES) de residus agroindustrials, com alternatiu per a la producció d'aromes de valor afegit. Dos grups de compostos han estat considerats com a ...