Programa de Doctorat en Biologia i Biotecnologia Vegetal
The Universitat Autònoma de Barcelona is a referent in Europe so much for its teaching quality as for its commitment to innovation in research. The University was founded in 1968 and it has become a model to follow because of its will to contribute to social progress by training the professionals required by the most dynamic economic and social sectors in the country.
The UAB was one of the first universities of the Spanish State in being acknowledged as Campus of International Excellence. This Program promotes alliances of institutions that have a common strategic project aiming to create an academic, scientific, entreprenurial and innovative environment to get a high international visibility. The University proposal is the project "UABCEI: Aposta pel coneixement i la innovació" (UABCIE: Committment to knowledge and innovation). This is an strategic plan that seeks to make a dynamic RDI environment aiming to make the UAB one of the best European Universities.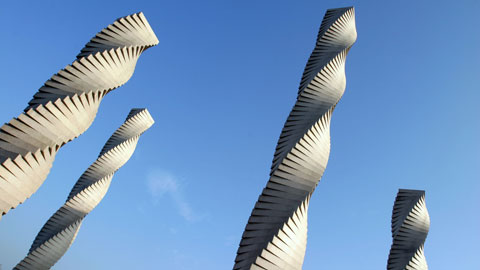 Recent Submissions
(Date of defense:

22-01-2021

)

Els fongs patògens de plantes causen importants pèrdues en les collites, posant en perill la seguretat i qualitat alimentària. Els pèptids antimicrobians (AMPs) mostren una activitat lítica potent i duradora específicament ...

(Date of defense:

05-02-2021

)

La present tesi doctoral descriu la configuració del complex proteic de BRAVO en el nínxol de cèl·lules mare d'Arabidopsis. També demostra que BRAVO-WOX5-BES1 formen part d'una xarxa organitzadora que comprèn heterodímeros ...

(Date of defense:

10-12-2020

)

La curcumina és un compost fenòlic present en el rizoma de la Curcuma longa, que ha estat extensament estudiat en diversos models de càncer, per les seves propietats proapoptòtiques, antiinflamatòries i quimiosensibilitzadores, ...

(Date of defense:

17-09-2020

)

La llum és un dels senyals ambientals més importants que influeixen en el cicle de vida de la planta. Les plantes han desenvolupat un conjunt de complexos mecanismes moleculars que detecten canvis en la qualitat i quantitat ...

(Date of defense:

08-07-2020

)

La producció de proteïnes recombinants en plantes representa una oportunitat per a la seva obtenció i utilització comercial. L'objectiu principal d'aquesta tesi industrial ha estat el desenvolupament de sistemes vegetals ...