Programa de Doctorat en Enginyeria Electrònica i de Telecomunicació
The Universitat Autònoma de Barcelona is a referent in Europe so much for its teaching quality as for its commitment to innovation in research. The University was founded in 1968 and it has become a model to follow because of its will to contribute to social progress by training the professionals required by the most dynamic economic and social sectors in the country.
The UAB was one of the first universities of the Spanish State in being acknowledged as Campus of International Excellence. This Program promotes alliances of institutions that have a common strategic project aiming to create an academic, scientific, entreprenurial and innovative environment to get a high international visibility. The University proposal is the project "UABCEI: Aposta pel coneixement i la innovació" (UABCIE: Committment to knowledge and innovation). This is an strategic plan that seeks to make a dynamic RDI environment aiming to make the UAB one of the best European Universities.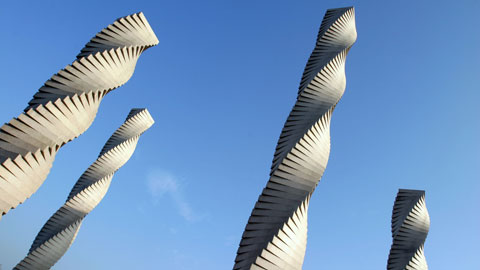 Recent Submissions
(Date of defense:

11-03-2021

)

En els últims anys s'han produït desenvolupaments tecnològics innovadors en el camp dels implants neuronals per a aplicacions mèdiques. La comprensió de el cervell humà es considera com un dels majors reptes científics del ...

(Date of defense:

26-09-2019

)

Els sensors nanomecànics han estat reportats històricament com una eina atractiva per a la biodetecció degut a la seva alta sensibilitat, alt rendiment i alta integració. La majoria dels sensors nanomecànics s'han fabricat ...

(Date of defense:

21-02-2021

)

En aquesta tesi doctoral es realitza una extensa investigació sobre el fenomen de la ruptura dielèctrica en dispositius metall-aïllant-semiconductor (MIS) i metall-aïllant-metall (MIM) basats en HfO2. Més específicament, ...

(Date of defense:

14-12-2020

)

El treball presentat en aquesta tesi es dedica a la comprensió de desafiaments pràctics i conceptuals en la simulació de propietats dinàmiques més enllà de l'aproximació quasi-estàtica en dispositius quàntics d'estat sòlid ...

(Date of defense:

21-12-2020

)

La creixent demanda energètica, l'esgotament dels combustibles fòssils i l'augment de l'escalfament global a causa de l'emissió de carboni ha donat lloc a la necessitat d'un sistema energètic alternatiu, global i respectuós ...