Departament de Medicina i Cirurgia Animals
The Universitat Autònoma de Barcelona is a referent in Europe so much for its teaching quality as for its commitment to innovation in research. The University was founded in 1968 and it has become a model to follow because of its will to contribute to social progress by training the professionals required by the most dynamic economic and social sectors in the country.
The UAB was one of the first universities of the Spanish State in being acknowledged as Campus of International Excellence. This Program promotes alliances of institutions that have a common strategic project aiming to create an academic, scientific, entreprenurial and innovative environment to get a high international visibility. The University proposal is the project "UABCEI: Aposta pel coneixement i la innovació" (UABCIE: Committment to knowledge and innovation). This is an strategic plan that seeks to make a dynamic RDI environment aiming to make the UAB one of the best European Universities.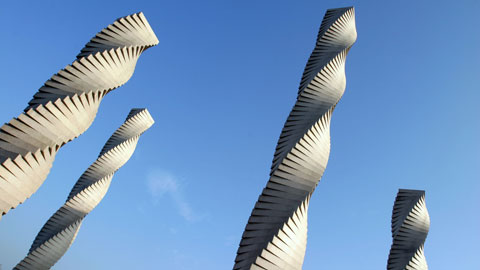 Recent Submissions
(Date of defense:

13-12-2019

)

El plasma seminal representa un important i actiu contribuent a la fertilitat dels mamífers. Entre els components del plasma seminal s'hi troben els antioxidants enzimàtics i no enzimàtics que modulen la producció d'espècies ...

(Date of defense:

19-12-2019

)

El mosquit tigre, Ae. albopictus, es troba àmpliament establert en regions tropicals, subtropicals i templa des, on són un vector per l'arbovirus com chikungunya i dengue. Els brots que s'han produït dels dos virus a ...

(Date of defense:

28-10-2019

)

En los últimos años, la ciencia de los biomateriales aplicada a los sustitutos óseos se ha centrado en la investigación de nuevos implantes elaborados con materiales que, además de presentar una estructura de poros ...

(Date of defense:

04-10-2019

)

Esta tesis titulada "Identificación, localización y función de las acuaporinas en el espermatozoide equino y su relación con la criopreservación" está dividida en varias secciones. La primera parte contiene un sumario, ...

(Date of defense:

22-11-2019

)

El senglar (Sus scrofa) és un ungulat omnívor summament adaptable, generalista pel que fa al tipus d'hàbitat i de recursos tròfics. Les seves poblacions estan augmentant de manera generalitzada a Europa, especialment en ...