Programa de Doctorat en Bioquímica, Biologia Molecular i Biomedicina
The Universitat Autònoma de Barcelona is a referent in Europe so much for its teaching quality as for its commitment to innovation in research. The University was founded in 1968 and it has become a model to follow because of its will to contribute to social progress by training the professionals required by the most dynamic economic and social sectors in the country.
The UAB was one of the first universities of the Spanish State in being acknowledged as Campus of International Excellence. This Program promotes alliances of institutions that have a common strategic project aiming to create an academic, scientific, entreprenurial and innovative environment to get a high international visibility. The University proposal is the project "UABCEI: Aposta pel coneixement i la innovació" (UABCIE: Committment to knowledge and innovation). This is an strategic plan that seeks to make a dynamic RDI environment aiming to make the UAB one of the best European Universities.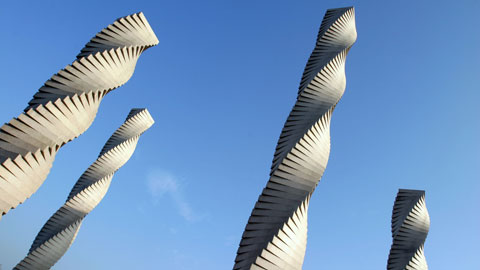 Recent Submissions
(Date of defense:

08-02-2021

)

Les auxines són les principals fitohormones que governen el creixement i desenvolupament de les plantes, principalment a través de la via nuclear de l'auxina, NAP. Els efectors finals en NAP són els factors de resposta ...

(Date of defense:

19-01-2021

)

El MNGIE és una malaltia mitocondrial d'herència autosòmica recessiva causada per mutacions en el gen TYMP, que codifica l'enzim timidina fosforilasa (TP). La TP catalitza la degradació de timidina (dThd) i desoxiuridina ...

(Date of defense:

09-12-2020

)

L'atàxia de Friedreich (FRDA) és una malaltia neurodegenerativa, hereditària autosòmica recessiva, causada per la deficiència de la proteïna frataxina (FXN) deguda a l'expansió patològica del triplet GAA intrònic en el gen ...

(Date of defense:

18-01-2021

)

Aquesta tesi s'enfoca en la caracterització estructural i funcional de les propietats biològiques de les RNases antimicrobianes de la superfamília de la RNasa A. Concretament, s'han assolit els següents objectius a curt ...

(Date of defense:

04-02-2021

)

Les proteïnes son un dels grup biològics de macromolècules més abundants i estan involucrades en gairebé tots els processos que ocorren en un organisme. Poden ser classificades en moltes categories, però un dels criteris ...