Departament de Bioquímica i Biologia Molecular
The Universitat Autònoma de Barcelona is a referent in Europe so much for its teaching quality as for its commitment to innovation in research. The University was founded in 1968 and it has become a model to follow because of its will to contribute to social progress by training the professionals required by the most dynamic economic and social sectors in the country.
The UAB was one of the first universities of the Spanish State in being acknowledged as Campus of International Excellence. This Program promotes alliances of institutions that have a common strategic project aiming to create an academic, scientific, entreprenurial and innovative environment to get a high international visibility. The University proposal is the project "UABCEI: Aposta pel coneixement i la innovació" (UABCIE: Committment to knowledge and innovation). This is an strategic plan that seeks to make a dynamic RDI environment aiming to make the UAB one of the best European Universities.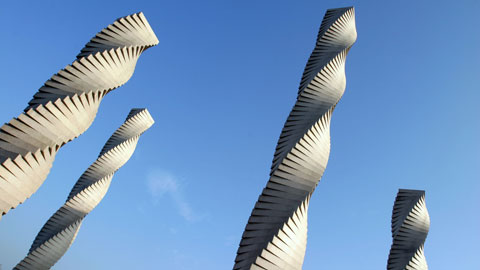 Recent Submissions
(Date of defense:

28-11-2018

)

La enfermedad de Alzheimer es la forma mas común de demencia en edades avanzadas, la cual afecta a 40 millones de personas alrededor del mundo. Es una enfermedad compleja que afecta no solo a neuronas, sino también a ...

(Date of defense:

30-11-2018

)

La obesidad y la diabetis tipo 2 (DT2) se consideran las dos grandes epidemias del siglo XXI. A pesar del grave problema de salud, económico y social que representan, actualmente no existen terapias completamente efectivas. ...

(Date of defense:

16-11-2018

)

La Enfermedad de Alzheimer (EA) es un desorden neurodegenerativo caracterizado por la pérdida temprana de sinapsis seguida por una degeneración progresiva y déficits de memoria que derivan en demencia. A día de hoy, la EA ...

(Date of defense:

16-11-2018

)

La superfamília de les aldehid deshidrogenases (ALDH) comprèn un elevat nombre de proteïnes dimèriques i tetramèriques, amb un pes molecular aproximat de 55 kDa per subunitat i amb diferents localitzacions cel·lulars ...

(Date of defense:

30-04-2015

)

Los tumores cerebrales constituyen menos del 2% de los tumores primarios, pero son uno de los peores tipos de cáncer en cuanto a "años de vida perdidos". Los gliomas son los tumores cerebrales más prevalentes, con una ...