Departament de Bioquímica i Biologia Molecular
The Universitat Autònoma de Barcelona is a referent in Europe so much for its teaching quality as for its commitment to innovation in research. The University was founded in 1968 and it has become a model to follow because of its will to contribute to social progress by training the professionals required by the most dynamic economic and social sectors in the country.
The UAB was one of the first universities of the Spanish State in being acknowledged as Campus of International Excellence. This Program promotes alliances of institutions that have a common strategic project aiming to create an academic, scientific, entreprenurial and innovative environment to get a high international visibility. The University proposal is the project "UABCEI: Aposta pel coneixement i la innovació" (UABCIE: Committment to knowledge and innovation). This is an strategic plan that seeks to make a dynamic RDI environment aiming to make the UAB one of the best European Universities.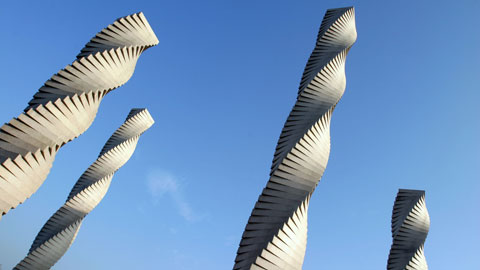 Recent Submissions
(Date of defense:

26-10-2018

)

La osteonecrosis de cabeza femoral (ONCF) se define como la muerte tisular asociada a un proceso isquémico y a la sucesiva destrucción del tejido óseo de la cabeza del fémur. Debido a las características anatómicas y ...

(Date of defense:

15-12-2018

)

Presenilina-1 (PS1), el component catalític de γ-secretasa que regula el processament de múltiples proteïnes transmembrana, es troba mutada en la majoria de casos d'Alzheimer familiar (FAD). Evidències recents indiquen que ...

(Date of defense:

29-01-2019

)

El glioblastoma (GB) es el tumor primario más común en adultos. Debido a su mal prognóstico, es urgente encontrar mejoras en su tratamiento. El objetivo de esta tesis es estudiar el efecto de inhibidores de CK2 y del agente ...

(Date of defense:

14-12-2018

)

La Mucopolisacaridosis tipo IVA (MPS IVA) es una enfermedad minoritaria de acumulación lisosomal, de herencia autosómica recesiva, causada por la deficiencia en la enzima lisosomal N-acetilgalactosamina 6-sulfatasa (GALNS). ...

(Date of defense:

28-11-2018

)

La enfermedad de Alzheimer es la forma mas común de demencia en edades avanzadas, la cual afecta a 40 millones de personas alrededor del mundo. Es una enfermedad compleja que afecta no solo a neuronas, sino también a ...