Departament de Bioquímica i Biologia Molecular
The Universitat Autònoma de Barcelona is a referent in Europe so much for its teaching quality as for its commitment to innovation in research. The University was founded in 1968 and it has become a model to follow because of its will to contribute to social progress by training the professionals required by the most dynamic economic and social sectors in the country.
The UAB was one of the first universities of the Spanish State in being acknowledged as Campus of International Excellence. This Program promotes alliances of institutions that have a common strategic project aiming to create an academic, scientific, entreprenurial and innovative environment to get a high international visibility. The University proposal is the project "UABCEI: Aposta pel coneixement i la innovació" (UABCIE: Committment to knowledge and innovation). This is an strategic plan that seeks to make a dynamic RDI environment aiming to make the UAB one of the best European Universities.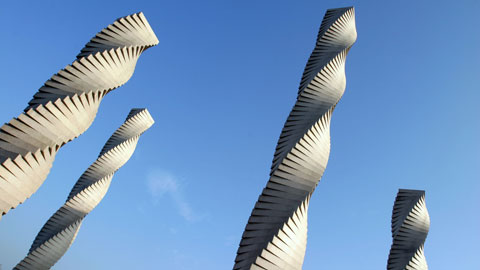 Recent Submissions
(Date of defense:

17-06-2019

)

En aquest treball el terme dany per radiació, aplicat a sistemes biològics macromoleculars, fa referència a totes les modificacions, tant estructurals com químiques, induïdes pels raigs X en interaccionar amb la mostra ...

(Date of defense:

28-06-2019

)

Les densitats postsinàptiques (DPSs) de les sinapsis en espines dendrítiques expressen més de 2.000 proteïnes, dotant a les neurones de plasticitat sinàptica necessària per a la cognició i el comportament. Algunes de les ...

(Date of defense:

19-06-2019

)

El rabdomiosarcoma (RMS) és el sarcoma de teixits tous més comú en nens i adolescents, representant aproximadament un 5% dels càncers pediàtrics. Histològicament, el RMS es classifica en dos subtipus principals, l'alveolar ...

(Date of defense:

14-06-2019

)

Entender los mecanismos moleculares relacionados con la melanomagénesis es clave a la hora de encontrar nuevas estrategias preventivas y terapéuticas contra esta letal enfermedad. La epidemiología indica que hay factores ...

(Date of defense:

14-06-2019

)

Las proteínas de membrana son elementos fundamentales de todas las células conocidas, que representan una cuarta parte de los genes del genoma humano, y desempeñan funciones esenciales en la biología celular. Alrededor del ...