Departament de Bioquímica i Biologia Molecular
The Universitat Autònoma de Barcelona is a referent in Europe so much for its teaching quality as for its commitment to innovation in research. The University was founded in 1968 and it has become a model to follow because of its will to contribute to social progress by training the professionals required by the most dynamic economic and social sectors in the country.
The UAB was one of the first universities of the Spanish State in being acknowledged as Campus of International Excellence. This Program promotes alliances of institutions that have a common strategic project aiming to create an academic, scientific, entreprenurial and innovative environment to get a high international visibility. The University proposal is the project "UABCEI: Aposta pel coneixement i la innovació" (UABCIE: Committment to knowledge and innovation). This is an strategic plan that seeks to make a dynamic RDI environment aiming to make the UAB one of the best European Universities.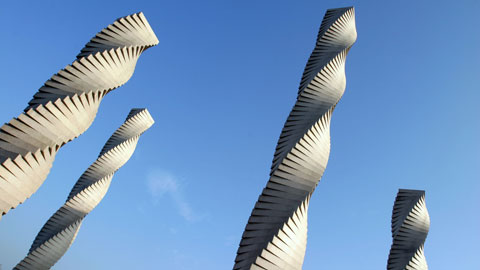 Recent Submissions
(Date of defense:

20-09-2019

)

Introducción: el aneurisma de aorta abdominal (AAA) es una enfermedad vascular degenerativa caracterizada por una dilatación de la aorta abdominal del 50% o mayor que el diámetro normal. Presenta una prevalencia del 4-8 % ...

(Date of defense:

20-09-2019

)

Uno de los más notables componentes en la homeostasis de cationes en levaduras es la proteína fosfatasa Ppz1. El papel de Ppz1 es doble: inhibe la entrada de potasio mediante el control de la actividad de los transportadores ...

(Date of defense:

30-07-2019

)

L'obesitat i la diabetis tipus 2 (DT2) són dues malalties estretament relacionades que representen un greu problema de salut, social i econòmic per la seva alta prevalença a tot el món. Ambdues malalties també es relacionen ...

(Date of defense:

26-07-2019

)

Glioblastoma (GBM) es el tumor más agresivo dentro de la clasificación de gliomas y actualmente no tiene cura. Dado que hasta el 30% de las células en GBM son microglia y macrófagos (GAMMs desde ahora, por sus siglas en ...

(Date of defense:

17-06-2019

)

En aquest treball el terme dany per radiació, aplicat a sistemes biològics macromoleculars, fa referència a totes les modificacions, tant estructurals com químiques, induïdes pels raigs X en interaccionar amb la mostra ...