Departament de Pediatria, d'Obstetrícia i Ginecologia i de Medicina Preventiva
The Universitat Autònoma de Barcelona is a referent in Europe so much for its teaching quality as for its commitment to innovation in research. The University was founded in 1968 and it has become a model to follow because of its will to contribute to social progress by training the professionals required by the most dynamic economic and social sectors in the country.
The UAB was one of the first universities of the Spanish State in being acknowledged as Campus of International Excellence. This Program promotes alliances of institutions that have a common strategic project aiming to create an academic, scientific, entreprenurial and innovative environment to get a high international visibility. The University proposal is the project "UABCEI: Aposta pel coneixement i la innovació" (UABCIE: Committment to knowledge and innovation). This is an strategic plan that seeks to make a dynamic RDI environment aiming to make the UAB one of the best European Universities.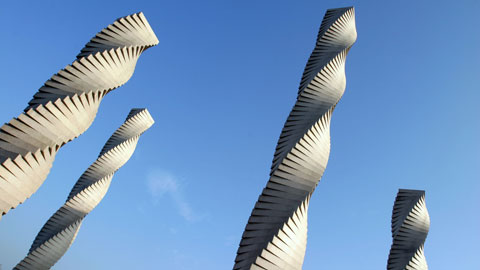 Recent Submissions
(Date of defense:

08-11-2019

)

Introducción: Según reportes de la Federal Dental International (FDI) la caries dental afecta al 44% de la población mundial. Se han desarrollado instrumentos de medición que pretenden valorar la percepción psicosocial ...

(Date of defense:

27-11-2019

)

L'objectiu principal de la recerca realitzada és analitzar la contaminació de la població general per compostos tòxics persistents (CTPs) i estudiar la relació de les concentracions corporals d'aquests contaminants amb ...

(Date of defense:

18-12-2019

)

Objetivo de nuestro estudio fue evaluar la capacidad diagnóstica de la ecografía pulmonar en el diagnóstico del Síndrome del Distrés Respiratorio (SDR), así como en el seguimiento de la respuesta al tratamiento. La ecografía ...

(Date of defense:

30-10-2019

)

Entre 2000 i 2005 Barcelona va experimentar un augment de les taxes de fecunditat, fecunditat adolescent i avortament, associat a la nova immigració econòmica. El 2006 l'Agència de Salut Pública de Barcelona va desenvolupar ...

(Date of defense:

26-07-2019

)

Las enfermedades orales son altamente prevalentes a nivel mundial a pesar de la mejora en los índices de salud oral en las últimas décadas del siglo XX. Es bien sabido que sus consecuencias en los niños son graves y pueden ...