Programa de Doctorat en Física
The Universitat Autònoma de Barcelona is a referent in Europe so much for its teaching quality as for its commitment to innovation in research. The University was founded in 1968 and it has become a model to follow because of its will to contribute to social progress by training the professionals required by the most dynamic economic and social sectors in the country.
The UAB was one of the first universities of the Spanish State in being acknowledged as Campus of International Excellence. This Program promotes alliances of institutions that have a common strategic project aiming to create an academic, scientific, entreprenurial and innovative environment to get a high international visibility. The University proposal is the project "UABCEI: Aposta pel coneixement i la innovació" (UABCIE: Committment to knowledge and innovation). This is an strategic plan that seeks to make a dynamic RDI environment aiming to make the UAB one of the best European Universities.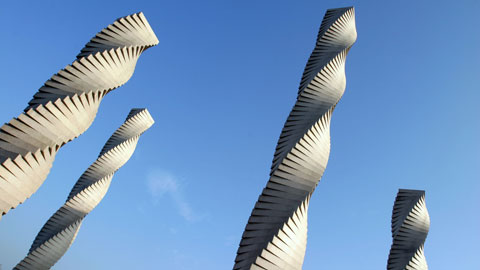 Recent Submissions
(Date of defense:

22-12-2020

)

Els cartografiats de galàxies fotomètrics actuals i futurs observaran un gran volum de l'univers que ens permetrà acotar amb precisió el model cosmològic. Tanmateix, la capacitat de delimitar el model que tenen aquests ...

(Date of defense:

10-12-2020

)

Després del descobriment dels primers exoplanetes fa unes tres dècades, la detecció i caracterització de companys planetaris s'ha convertit en un tema de recerca prominent, especialment la cerca de planetes semblants a la ...

(Date of defense:

17-12-2020

)

El camp de l'espintrònica té l'objectiu d'utilitzar el grau de llibertat d'espín de l'electró per emmagatzemar, transportar i manipular informació en dispositius electrònics de nova generació. En aquesta tesi, faig servir ...

(Date of defense:

17-12-2020

)

Les observacions astrofísiques i cosmològiques afirmen de la existència d'una forma de matèria no bariònica i invisible, anomenada Matèria Fosca (DM), que representa el 85% de la massa total de l'Univers. Entre els ...

(Date of defense:

17-12-2020

)

Les ones gravitatòries van ser predites per Albert Einstein l'any 1915 dintre del marc de la teoria de la Relativitat General. Segons aquesta teoria, la qual representa la vigent comprensió de la interacció gravitatòria, ...