Programa de Doctorat en Neurociències
The Universitat Autònoma de Barcelona is a referent in Europe so much for its teaching quality as for its commitment to innovation in research. The University was founded in 1968 and it has become a model to follow because of its will to contribute to social progress by training the professionals required by the most dynamic economic and social sectors in the country.
The UAB was one of the first universities of the Spanish State in being acknowledged as Campus of International Excellence. This Program promotes alliances of institutions that have a common strategic project aiming to create an academic, scientific, entreprenurial and innovative environment to get a high international visibility. The University proposal is the project "UABCEI: Aposta pel coneixement i la innovació" (UABCIE: Committment to knowledge and innovation). This is an strategic plan that seeks to make a dynamic RDI environment aiming to make the UAB one of the best European Universities.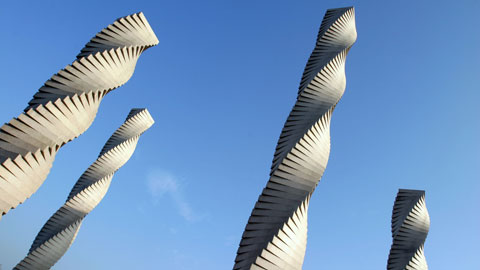 Recent Submissions
(Date of defense:

24-02-2021

)

Els receptors acoblats a proteïnes G (GPCRs) són importants dianes terapèutiques per a nombroses malalties. Si bé els GPCRs s'han estudiat àmpliament en les últimes dècades, els mecanismes moleculars que determinen la seva ...

(Date of defense:

05-02-2021

)

La malaltia de Parkinson (MP) és un síndrome neurològic caracteritzat per la pèrdua de neurones dopaminèrgiques mesencefàliques ubicades a la substantia nigra pars compacta (SNpc). L'etiologia de la malaltia encara es ...

(Date of defense:

03-12-2020

)

L'esquizofrènia és una malaltia mental incapacitant que involucra diversos símptomes cognitius, com un filtratge sensoriomotor deteriorat. El filtratge sensoriomotor es pot mesurar mitjançant la inhibició prepols (IPP) de ...

(Date of defense:

16-12-2020

)

La funció transcripcional de la proteïna d'unió als elements de resposta a l'AMP cíclic (CREB) és modulada per la família dels coactivadors transcripcionals regulats per CREB (CRTCs). Totes les isoformes de CRTC (CRTC1, ...

(Date of defense:

11-12-2020

)

El síndrome de Leigh (SL) és la malaltia mitocondrial més freqüent en infants. Els pacients amb SL, tot i tenir una clínica heterogènia, es caracteritzen per desenvolupar lesions neurològiques bilaterals en el tronc encefàlic ...