Programa de Doctorat en Producció Animal
The Universitat Autònoma de Barcelona is a referent in Europe so much for its teaching quality as for its commitment to innovation in research. The University was founded in 1968 and it has become a model to follow because of its will to contribute to social progress by training the professionals required by the most dynamic economic and social sectors in the country.
The UAB was one of the first universities of the Spanish State in being acknowledged as Campus of International Excellence. This Program promotes alliances of institutions that have a common strategic project aiming to create an academic, scientific, entreprenurial and innovative environment to get a high international visibility. The University proposal is the project "UABCEI: Aposta pel coneixement i la innovació" (UABCIE: Committment to knowledge and innovation). This is an strategic plan that seeks to make a dynamic RDI environment aiming to make the UAB one of the best European Universities.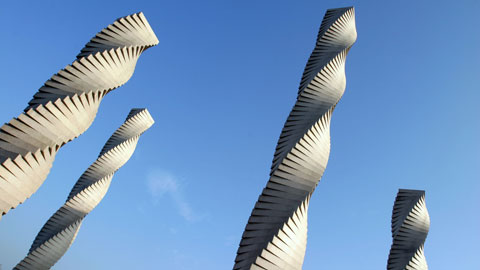 Recent Submissions
(Date of defense:

22-12-2020

)

L'estructura de les explotacions de llames ubicades a les 7 províncies de la regió de Huancavelica, ha estat caracteritzada mitjançant una enquesta a 145 propietaris. Es va utilitzar un qüestionari que abastava aspectes ...

(Date of defense:

27-11-2020

)

La conca Mediterrània, presenta una vegetació adaptada a l'estacionalitat climàtica i a pertorbacions recurrents com el foc i l'herbivorismo. El recent canvi global, fenomen que inclou el canvi climàtic i els canvis en els ...

(Date of defense:

21-12-2020

)

L'objectiu general de la tesi va ser explorar diferents procediments directes i indirectes d'avaluació genètica de l'eficiència alimentària que permetin reduir les inversions necessàries en sistemes de registre del consum ...

(Date of defense:

04-12-2020

)

Amb l'objectiu d'obtenir nous coneixements sobre la base molecular de la lactació en cabres de la raça Murciano-Granadina (MUG), hem dut a terme una anàlisi RNA-Seq de mostres de la glàndula mamària (N=7) obtingudes en ...

(Date of defense:

10-12-2020

)

La ramaderia bovina és una de les activitats econòmiques més importants a Paraguai. Els censos bovins s'han multiplicat per tres en els últims 50 anys, sent aquest increment més acusat en la Regió Occidental o Chaco, que ...