Departament de Física
The Universitat Autònoma de Barcelona is a referent in Europe so much for its teaching quality as for its commitment to innovation in research. The University was founded in 1968 and it has become a model to follow because of its will to contribute to social progress by training the professionals required by the most dynamic economic and social sectors in the country.
The UAB was one of the first universities of the Spanish State in being acknowledged as Campus of International Excellence. This Program promotes alliances of institutions that have a common strategic project aiming to create an academic, scientific, entreprenurial and innovative environment to get a high international visibility. The University proposal is the project "UABCEI: Aposta pel coneixement i la innovació" (UABCIE: Committment to knowledge and innovation). This is an strategic plan that seeks to make a dynamic RDI environment aiming to make the UAB one of the best European Universities.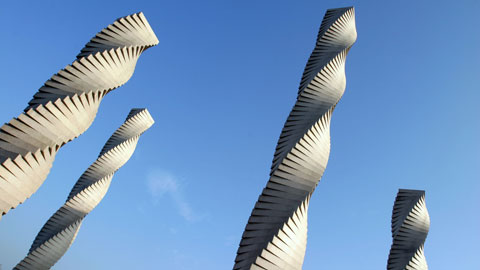 Recent Submissions
(Date of defense:

23-11-2018

)

El impacto de grandes fragmentos desprendidos de cometas y asteroides contra la Tierra puede llegar a ser muy peligroso. Recientemente, sucesos como Chelyabinsk (2013), Carancas (2007) o Tunguska (1908) han demostrado la ...

(Date of defense:

13-11-2018

)

En el presente trabajo se muestran los avances obtenidos mediante la técnica de Deposición de Soluciones Químicas (CSD) para la obtención de diversos óxidos funcionales. Estos estudios se han dado principalmente en dos ...

(Date of defense:

30-10-2018

)

El meu doctorat està dedicat a analitzar transicions de fases quàntiques de naturalesa exòtica en sistemes fortament correlacionats descrits per Hamiltonians de spin. D'una banda, m'he centrat en l'estudi de transicions ...

(Date of defense:

26-10-2018

)

Aquest treball se centra en l'electrodeposició i l'estudi del sistema Fe-Cu, tant sobre substrats llisos per a l'obtenció de pel·lícules continues com en substrats proveïts amb un reticle o màscara, així com la fabricació ...

(Date of defense:

19-10-2018

)

La creciente demanda de plataformas de análisis que sean fiables y, al mismo tiempo, fáciles de usar y compactas, que requieran un bajo consumo de muestras y proporcionen una alta sensibilidad y una respuesta en tiempo ...