Departament de Física
The Universitat Autònoma de Barcelona is a referent in Europe so much for its teaching quality as for its commitment to innovation in research. The University was founded in 1968 and it has become a model to follow because of its will to contribute to social progress by training the professionals required by the most dynamic economic and social sectors in the country.
The UAB was one of the first universities of the Spanish State in being acknowledged as Campus of International Excellence. This Program promotes alliances of institutions that have a common strategic project aiming to create an academic, scientific, entreprenurial and innovative environment to get a high international visibility. The University proposal is the project "UABCEI: Aposta pel coneixement i la innovació" (UABCIE: Committment to knowledge and innovation). This is an strategic plan that seeks to make a dynamic RDI environment aiming to make the UAB one of the best European Universities.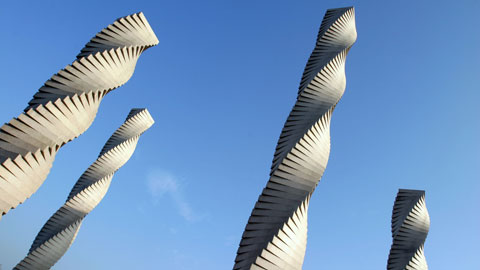 Recent Submissions
(Date of defense:

14-04-2020

)

Les perovskita orgàniques/inorgàniques híbrides han atret molta atenció des que es van introduir per primera vegada en un dispositiu fotovoltaic fa deu anys, obtenint una eficiència de el 3%. Des de llavors, l'eficiència ...

(Date of defense:

21-02-2020

)

La coherència quàntica, o la propietat dels sistemes que es troben en una superposició d'estats capaç de donar lloc a patrons d'interferència en els experiments adequats, és el segell distintiu de la mecànica quàntica. ...

(Date of defense:

06-03-2020

)

A causa de la gran flexibilitat que ofereixen en la seva manipulació i control, els sistemes d'àtoms ultrafreds són ideals per simular un ampli ventall de models de matèria condensada i constitueixen una plataforma molt ...

(Date of defense:

29-11-2019

)

La mesura estructurada de la llum ens permet obtenir una forma tridimensional de superfície d'un objecte amb una gran precisió. Així, troba aplicacions àmplies en aplicacions industrials. A més, projectant patrons de franja ...

(Date of defense:

04-10-2019

)

Las capas epitaxiales de α-cuarzo, gracias a sus propiedades piezoeléctricas, pueden permitir fabricar sensores de masa de una sensibilidad jamás alcanzada que podrían dar lugar a aplicaciones novedosas en electrónica, ...