Programa de Doctorat en Biotecnologia
The Universitat Autònoma de Barcelona is a referent in Europe so much for its teaching quality as for its commitment to innovation in research. The University was founded in 1968 and it has become a model to follow because of its will to contribute to social progress by training the professionals required by the most dynamic economic and social sectors in the country.
The UAB was one of the first universities of the Spanish State in being acknowledged as Campus of International Excellence. This Program promotes alliances of institutions that have a common strategic project aiming to create an academic, scientific, entreprenurial and innovative environment to get a high international visibility. The University proposal is the project "UABCEI: Aposta pel coneixement i la innovació" (UABCIE: Committment to knowledge and innovation). This is an strategic plan that seeks to make a dynamic RDI environment aiming to make the UAB one of the best European Universities.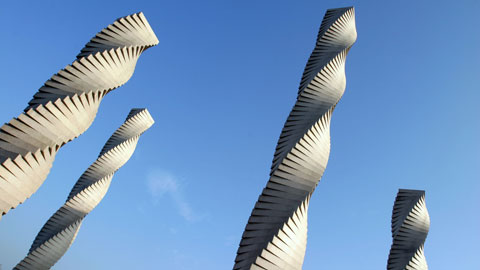 Recent Submissions
(Date of defense:

22-03-2021

)

La present tesi es centra en el desenvolupament i optimització d'una estratègia basada en la biocatàlisi per a la síntesi d'amines quirals, les quals són compostos òpticament actius de gran valor que poden ésser utilitzats ...

(Date of defense:

12-01-2021

)

La present tesi doctoral es centra en la caracterització de sistemes d'expressió utilitzats per a la producció de proteïnes recombinants (RPP) en el llevat metilotròfic Pichia pastoris. Al llarg de tot aquest treball ...

(Date of defense:

18-12-2020

)

La tesi presentada es centra en la millora de la producció de productes biofarmacèutics expressats en bacteris, llevats i cèl·lules animals. L'objectiu de la tesi és millorar la productivitat volumetrica del bioproceso de ...

(Date of defense:

24-07-2020

)

L'objectiu d'aquesta tesi ha estat el desenvolupament i l'aplicació de plataformes innovadores de biosensado en el punt d'atenció. La tesi es divideix en cinc capítols seguits d'una secció de conclusions generals. El capítol ...

(Date of defense:

10-11-2020

)

Variants germinals a les proteïnes BRCA1 i BRCA2 poden alterar la funció protectora d'aquestes a l'ADN, incrementant el risc de desenvolupar càncer de mama i ovari hereditari (HBOC). Identificació d'aquells individus ...