Programa de Doctorat en Teoria de la Literatura i Literatura Comparada
The Universitat Autònoma de Barcelona is a referent in Europe so much for its teaching quality as for its commitment to innovation in research. The University was founded in 1968 and it has become a model to follow because of its will to contribute to social progress by training the professionals required by the most dynamic economic and social sectors in the country.
The UAB was one of the first universities of the Spanish State in being acknowledged as Campus of International Excellence. This Program promotes alliances of institutions that have a common strategic project aiming to create an academic, scientific, entreprenurial and innovative environment to get a high international visibility. The University proposal is the project "UABCEI: Aposta pel coneixement i la innovació" (UABCIE: Committment to knowledge and innovation). This is an strategic plan that seeks to make a dynamic RDI environment aiming to make the UAB one of the best European Universities.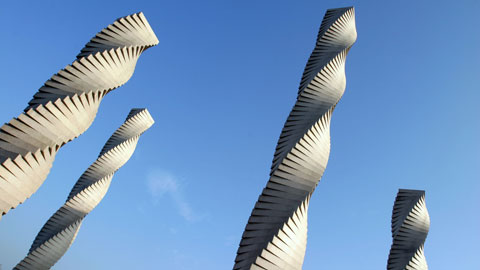 Recent Submissions
(Date of defense:

21-12-2020

)

El principal objectiu d'aquesta tesi doctoral és establir una poètica sobre la figura del monstre contemporani, de gènere fantàstic, partint de la nostra hipòtesi en la qual sostenim que, en la ficció postmoderna, es conrea ...

(Date of defense:

02-07-2020

)

Dai Wangshu (1905-1950), poeta representatiu de la poesia xinesa moderna, va aconseguir assolir un cert prestigi, tant per la seva tasca de traductor com per les seves composicions líriques, si bé la seva fama s'ha anat ...

(Date of defense:

10-07-2020

)

Què o qui, construeix la nostra identitat? Quina part d'aquesta identitat depèn de l'individu, quina part del grup, i quina part de l'altre? On radica el seu poder? Quina és la seva funció? Quin paper juga la mercaderia ...

(Date of defense:

06-11-2020

)

La tesi examina el corpus de manuals confessionals produïts en el territori xinès pels missioners europeus durant la dinastia Ming tardana i la Qing primerenca (aprox. 1580-1780). L'objectiu de la tesi consisteix, d'una ...

(Date of defense:

06-07-2020

)

L'objectiu de la tesis és elaborar un repertori mètric i melòdic del corpus lírica que constitueix la nova cantica. Per tal d'assolir tal propòsit, s'han incorporat 1756 composicions amb un total de 772 formes de rima ...