Departament de Biologia Animal, de Biologia Vegetal i d'Ecologia
The Universitat Autònoma de Barcelona is a referent in Europe so much for its teaching quality as for its commitment to innovation in research. The University was founded in 1968 and it has become a model to follow because of its will to contribute to social progress by training the professionals required by the most dynamic economic and social sectors in the country.
The UAB was one of the first universities of the Spanish State in being acknowledged as Campus of International Excellence. This Program promotes alliances of institutions that have a common strategic project aiming to create an academic, scientific, entreprenurial and innovative environment to get a high international visibility. The University proposal is the project "UABCEI: Aposta pel coneixement i la innovació" (UABCIE: Committment to knowledge and innovation). This is an strategic plan that seeks to make a dynamic RDI environment aiming to make the UAB one of the best European Universities.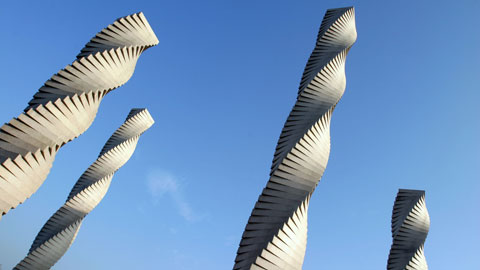 Recent Submissions
(Date of defense:

28-11-2018

)

El fruit del préssec deriva de l'ovari madur, que es converteix en drupa. La seva forma pot variar entre rodona i plana, adquirint algunes formes intermèdies com la forma aplanada. En el préssec, el fruit pla (anomenat ...

(Date of defense:

28-01-2019

)

Los bosques templados se distribuyen en el hemisferio norte, y están dominados principalmente por Pináceas y Fagáceas. En las últimas décadas diversos estudios han documentado el declive de estos bosques y los cambios ...

(Date of defense:

09-11-2018

)

L'accessió exòtica de meló PI 161375 cultivar Songwhan Charmi (SC) presenta resistència a la major part de soques de Cucumber mosaic virus (CMV). S'ha descrit que la resistència a soques del subgrup II de CMV és recessiva ...

(Date of defense:

21-12-2018

)

El desenvolupament i creixement de les plàntules està influenciat per senyals ambientals com ara la llum o la temperatura, i per senyals internes com ara les hormones o el rellotge circadià. Les plantes utilitzen la llum ...

(Date of defense:

26-10-2018

)

La función circadiana es esencial para el crecimiento y adaptación de las plantas a su entorno. La maquinaria molecular responsable de la generación de ritmos circadianos está basada en la expresión rítmica de genes cuyo ...