Departament de Biologia Animal, de Biologia Vegetal i d'Ecologia
The Universitat Autònoma de Barcelona is a referent in Europe so much for its teaching quality as for its commitment to innovation in research. The University was founded in 1968 and it has become a model to follow because of its will to contribute to social progress by training the professionals required by the most dynamic economic and social sectors in the country.
The UAB was one of the first universities of the Spanish State in being acknowledged as Campus of International Excellence. This Program promotes alliances of institutions that have a common strategic project aiming to create an academic, scientific, entreprenurial and innovative environment to get a high international visibility. The University proposal is the project "UABCEI: Aposta pel coneixement i la innovació" (UABCIE: Committment to knowledge and innovation). This is an strategic plan that seeks to make a dynamic RDI environment aiming to make the UAB one of the best European Universities.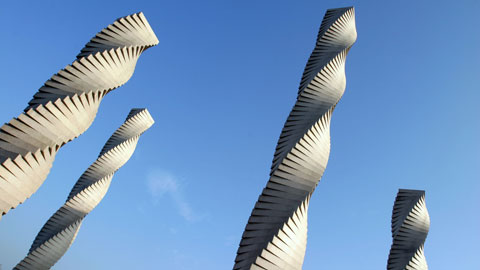 Recent Submissions
(Date of defense:

05-03-2020

)

La descomposició retorna al sòl més del 50% de la producció primària i aporta la font principal d'energia i nutrients a la complexa xarxa tròfica del sòl, basada en detritus. En ecosistemes terrestres la descomposició està ...

(Date of defense:

27-01-2020

)

La maduixa representa el cultiu de baies més consumit a tot el món, amb una producció de 9,2 milions de tones l'any 2017. Els programes de millora tradicionalment s'han centrat en els trets agronòmics, però la qualitat ...

(Date of defense:

22-11-2019

)

Els hipparionins eren uns èquids tridàctils molt diversificats durant el Miocè superior a l'àrea circummediterrània, on alguns van esdevenir nans. Per la seva abundància, aquests són un grup clau en la recerca paleoecològica ...

(Date of defense:

22-04-2020

)

El canvi climàtic en curs està afectant els boscos a tot el món, però ¿com i en quina mesura? Els recents esdeveniments severs de decaïment forestal mostren la potencial amplitud de les conseqüències d'un clima més càlid ...

(Date of defense:

25-10-2019

)

A pesar del declive generalizado de las abejas debido a la pérdida de sus hábitats y la transformación del paisaje, algunas especies de abejas pueden adaptarse para vivir en habitats modificados por el hombre. Aún así, no ...