Programa de Doctorat en Filologia Espanyola
The Universitat Autònoma de Barcelona is a referent in Europe so much for its teaching quality as for its commitment to innovation in research. The University was founded in 1968 and it has become a model to follow because of its will to contribute to social progress by training the professionals required by the most dynamic economic and social sectors in the country.
The UAB was one of the first universities of the Spanish State in being acknowledged as Campus of International Excellence. This Program promotes alliances of institutions that have a common strategic project aiming to create an academic, scientific, entreprenurial and innovative environment to get a high international visibility. The University proposal is the project "UABCEI: Aposta pel coneixement i la innovació" (UABCIE: Committment to knowledge and innovation). This is an strategic plan that seeks to make a dynamic RDI environment aiming to make the UAB one of the best European Universities.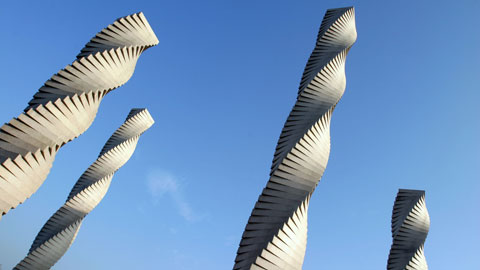 Recent Submissions
(Date of defense:

01-02-2021

)

La literatura no només compleix una funció de gaudi estètic, sinó també una funció educativa i social; per tant, pel que fa a la traducció d'una literatura estrangera, per estudiar la selecció dels escriptors i les seves ...

(Date of defense:

25-10-2019

)

El problema filològic en qüestió de la present tesi doctoral ha estat considerat un dels grans misteris de la gramàtica històrica espanyola: l'addició de -i final a "so", "estó", "do" i "vo", les primitives formes de present ...

(Date of defense:

04-12-2020

)

Imatges femenines a l'obra pampina d'Hernán Rivera Letelier constitueix una doble revisió: d'una banda, és una mirada d'obres narratives que tenen com a escenari les oficines salitreras del nord de Xile; però de l'altra, ...

(Date of defense:

26-11-2020

)

En aquesta tesi s'analitza la relació entre la gramàtica i l'escriptura en el currículum educatiu de Xile. Concretament, l'estudi considera els Programes d'assignatura de Llengua i Literatura del primer tram de l'Educació ...

(Date of defense:

25-11-2020

)

L'escriptora mexicana Bárbara Jacobs i el pintor, escultor i dissenyador gràfic Vicente Rojo són mostrats com a representants de l'exili heretat. Ell va néixer a Barcelona al 1932, i es va exiliar a Mèxic al 1949, quan la ...