Programa de Doctorat en Traducció i Estudis Interculturals
The Universitat Autònoma de Barcelona is a referent in Europe so much for its teaching quality as for its commitment to innovation in research. The University was founded in 1968 and it has become a model to follow because of its will to contribute to social progress by training the professionals required by the most dynamic economic and social sectors in the country.
The UAB was one of the first universities of the Spanish State in being acknowledged as Campus of International Excellence. This Program promotes alliances of institutions that have a common strategic project aiming to create an academic, scientific, entreprenurial and innovative environment to get a high international visibility. The University proposal is the project "UABCEI: Aposta pel coneixement i la innovació" (UABCIE: Committment to knowledge and innovation). This is an strategic plan that seeks to make a dynamic RDI environment aiming to make the UAB one of the best European Universities.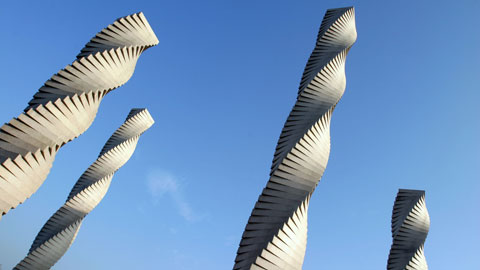 Recent Submissions
(Date of defense:

22-01-2021

)

La interpretació en llengua de signes (ILS) és un dels principals serveis d'accessibilitat als mitjans audiovisuals, juntament amb l'àudiodescripció i la subtitulació. Tot i la seva rellevància, la recerca en aquest camp ...

(Date of defense:

11-12-2020

)

Aquesta investigació té com a objectiu analitzar el fenomen social de la classe mitjana xinesa, posant atenció especial en la construcció social de la identitat mitjançant l'anàlisi de les pràctiques i representacions ...

(Date of defense:

02-12-2020

)

L'audiodescripció (AD) consisteix en la conversió d'imatges a paraules amb l'objectiu d'oferir una alternativa als continguts visuals per a les persones que no hi poden accedir. Es pot considerar un tipus de traducció ...

(Date of defense:

10-12-2020

)

En l'albor de la seva història, el Japó no disposava de la seva propia escriptura i quan va surgir la necessitat de poseer-la, els habitants de l'arxipèlag nipó van optar per demanar prestats les lletres de la seva veïna, ...

(Date of defense:

13-03-2020

)

Aquesta investigació consisteix en un estudi empíric i descriptiu de l'tractament dels referents culturals presents en la novel·la clàssica xinesa三国演义 三国演义 (Sānguóyǎnyì: Romanç dels Tres Regnes) i de la recepció de la ...